Practice Strategies:

Better patient outcomes, improved quality scores, & increased revenue
Outcomes+Quality+Revenue
Data-driven strategies to propel your clinic through recovery and to the next normal. North Star provides you strategies to improve patient outcomes and quality of life, raise quality scores to land providers in the shrinking MIPS bonus pool, and increase practice revenue for a healthier bottom line.
There is no "one-size-fits-all" solution due to layers of complexity within each practice – every practice and provider has a unique approach to their patients. We focus on the relationships that bring strategies to life, aiming for the highest levels of impact on a clinic's ability to deliver high-quality care, meet quality metrics, improve patient outcomes, and increase profits. What areas do you see as challenges?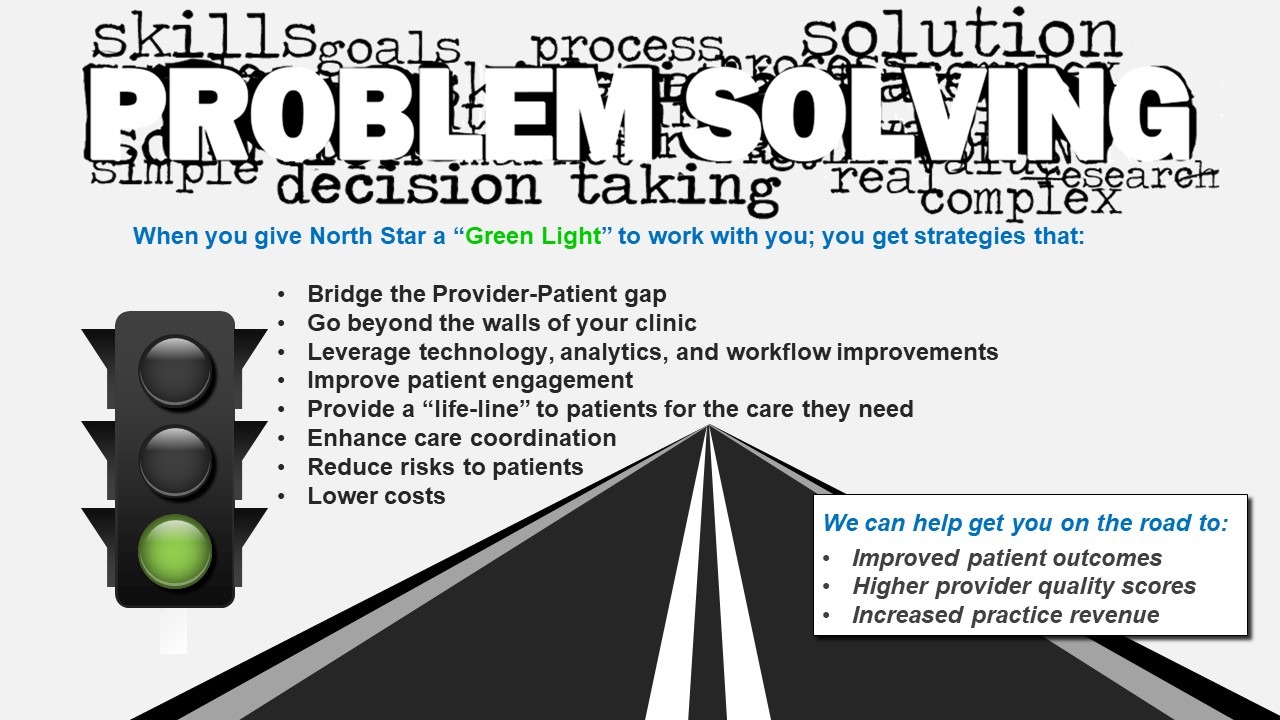 Telehealth, Telemedicine, Telemonitoring...
these three concepts are re-shaping healthcare. Learn how to leverage them and other strategies for your patients!
Get More Info
You can achieve your goals with North Star
Unlock potential revenue and quality improvement opportunities.

Applying proven analytical processes to your historical and current data identifies answers to questions concerning how to improve patient care, increase practice revenue, and so much more. What questions can we answer for you?

Implementing the strategies recommended for you and your practice can drive significant revenue increases for each provider.

We leverage a 4-step process: ASSESS: Identify immediate strategies; DESIGN: Tailor strategies based on your data; IMPLEMENT: Support strategy and resource integration; FOLLOW-UP: On-going progress evaluation.

Phase I: Establish relationships and conduct initial assessment identifies resources to meet immediate needs identified and introduced to clinic workflows; full scope of project is determined.

Phase II: Data-driven analysis identifies opportunities for growth; strategies are tailored to your practice for revenue generation, patient engagement and outcomes, risk mitigation, and more.

Phase III: Adoption of workflow, policy, technology, vendor, etc. changes that support your goals; continued assessment of initial and subsequent resource integration and focus areas.

Phase IV: Ongoing KPI tracking, impact summaries, assessments and recommendations; monthly check-in meetings and feedback.
Create Your Economic Stimulus Today.
Distance Care Strategies
CCM / RPM / Telehealth / TCM
Programs like Chronic Care Management can improve patient outcomes, support higher MIPS scores, and create a sustainable revenue source beyond the current PHE.
Solutions
Vendors and Resources
We recommend vendors and resources best capable to meet your stated needs and goals; Whether you swipe left or swipe right on a specific vendor or service opportunity, we are right there beside you throughout the process.
Developing
Sustainable Revenue
Our data-driven insights unclock opportunities for clinics to significantly improve revenue through services designed to last beyond the PHE. The options presented are legal, compliant, and support better patient outcomes, too.
Risk-Management
reduce exposure
Identify risk and set strategies in motion to reduce, mitigate, and avoid risks across your entire organization. Maintain compliance and protect your patients, staff, and providers.
Audit-Proofing
Protect earned assets
Although audit actions were on hold during the PHE, all work done before, during, and after will be subject to review. Learn where you might be drawing unwanted attention from recovery auditors and employ strategies to avoid attention.
Progress
Through Partnership
Our model focuses on helping practices / providers make the best connections for the services and support they need to provide their patients the absolute highest quality of care. It's all about the relationships.